PTA Advocates for ALL Children
Did you know that PTA has a over a century of speaking for every child with one voice? For over 100 years, PTA has used legislative advocacy to further the objectives of PTA to building a better world for children. In fact, PTA is the oldest and largest child advocacy organization in the country. Since inception in 1905, PTA has been a driving force behind the creation of  kindergarten, hot lunch programs, universal immunizations in schools, early education (coining the phrase "preschool"), and so much more. PTA advocates on behalf of all children on the important issues impacting education, health, and safety.
Join us at Focus Day 2018 . . .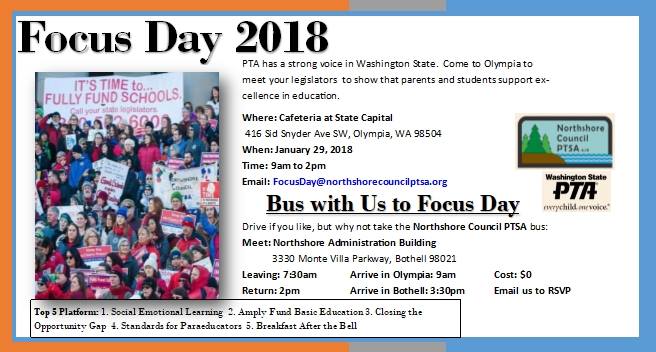 Read here to see what PTA has done over the years.
WA State PTA Legislative Platform
The Washington State PTA legislative platform is a two-year platform to mirror the Washington state legislative cycle. On the even-numbered years, the new platform is voted on by members at the legislative assembly in the fall. The top five issues become our short-term platform and consist of our priority issues when advocating throughout the year. Other issues are placed on an "also supported" list. During the odd-numbered years, members vote to amend current issues or to add new, emerging issues to the also supported list.
Top 5 Legislative Priorities for 2017
Social Emotional Learning
Amply Fund Basic Education
Closing the Opportunity Gap
Standards for Para-Educator
Breakfast After the Bell
2017 WSPTA Supported Issues
Improving Educational Outcomes for Foster Children
Engaging Families in Student Success
Post-Secondary/Higher Education Access and Affordability
Removing Barriers to Implementing ECEAP (Early Childhood Education and Assistance Program)
Restorative Justice and School Safety
.